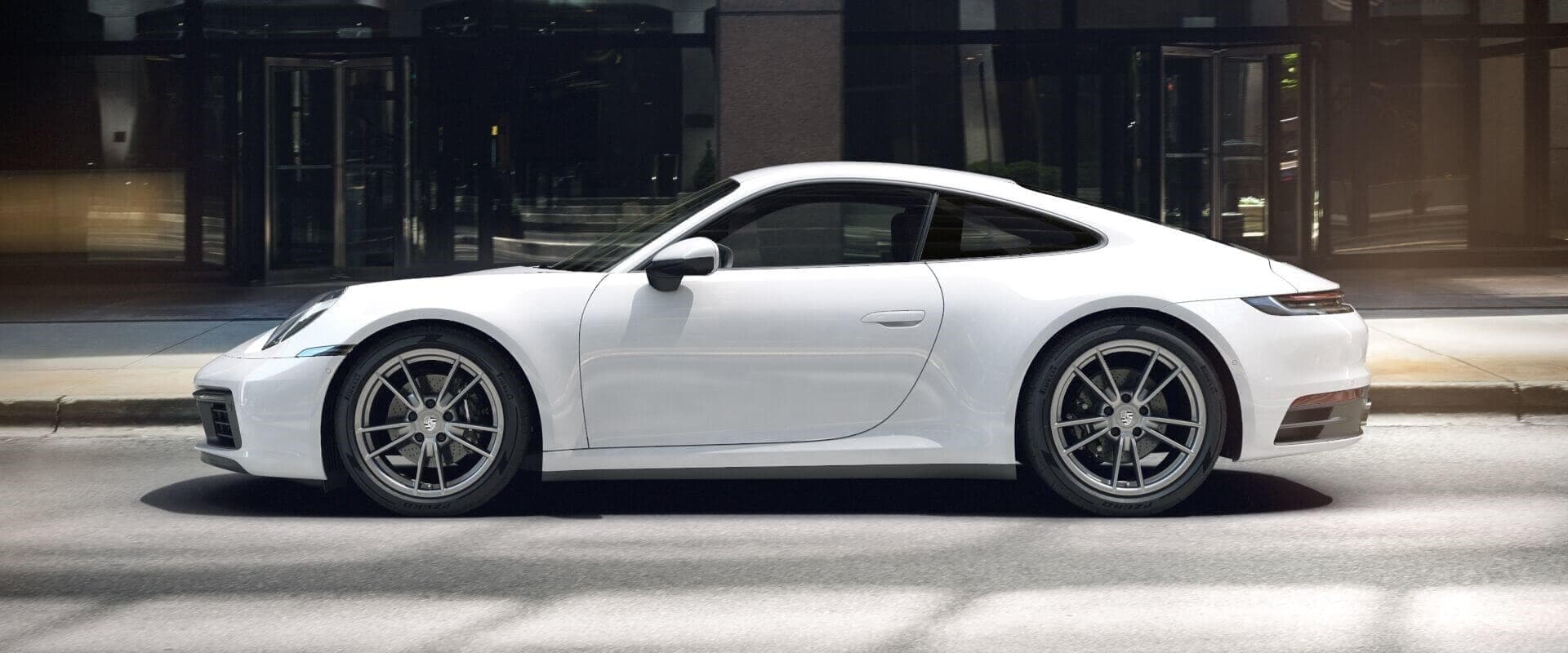 Porsche 911 Lineup and Comparison
Research the timeless and thrilling new Porsche 911, and review all the promising power waiting for you. Choose from iconic body profiles, the Carrera coupe, the Cabriolet convertible, or the legendary Targa, Turn heads with their unmistakable silhouette boasting modernized accents, iconic lighting, and bold trim options. Explore all your bold powertrain options and enjoy the smooth-shifting Porsche Doppelkupplung transmission. Looking for even more performance capability? upgrade your performance with a 911 Turbo featuring a 45 mm wider stance, four-point daytime running lights, three-dimensional LED tail lights, and a sculpted frame. Buckle up and brace yourself for the heart-pounding 640 horsepower, and discover unparalleled driving performance and control with the 911 Turbo's carbon-ceramic brakes and a new Porsche Active Suspension Management (PASM) Sport suspension.
Contact us at Porsche Austin with any questions you may have, or stop by our Austin, TX dealership for a test drive in a brand new Porsche 911 today. We would love to help you find the ideal 911 model for your budget and performance needs. Don't forget to check out our ongoing New Vehicle Specials and Pre-Owned Vehicle Specials for great deals that you can't get anywhere else. Keep reading to learn more about various Porsche 911 highlights and explore all of your model options.
Porsche 911 Carrera & Targa Highlights
Performance: Standard 379 horsepower and 331 lb-ft of torque, optional air suspension or Porsche Active Suspension Management, and Porsche Doppelkupplung transmission.
Exterior: Recessed door handles, iconic LED headlights, timeless flyline frame, and a continuous light strip.
Interior: Two USB-C ports, reduced sound insulation, available GT sports steering wheel, instrument cluster, and sports seats plus.
Assistance Systems: Tire Pressure Monitoring System, ParkAssist, Cruise control, Comfort Access, Porsche Wet Mode, and HomeLink®.
Safety Features: Full-size airbags, Porsche Side Impact Protection, engine immobilizer, electric air compressor, rollover protection, and Warn and Brake Assist.
Porsche 911 Turbo Highlights
Performance: Twin-turbocharged 3.8-liter flat-six engine, with up to 640 horsepower and 0 to 60 mph in 2.6 seconds. Features Porsche Doppelkupplung (PDK), an enhanced version of cruise control that actively regulates the speed of your vehicle in line with the speed of the vehicle in front.
Exterior: Broader track, distinctive rear fenders with evident horizontal orientation, four-point daytime running lights, and low beam, slanted LED lights.
Interior: Driver-centric console design, sports car ergonomics and GT sport steering wheel, leather interior with Deviated Stitching, and ambient lighting.
Safety Features: Lane Change Assist, available as an option, uses radar sensors to monitor the areas to the rear of the vehicle and the blind spots on either side.
Technology: Features Porsche Connect, an innovative infotainment system with USB connection for smartphones, available LTE telephone module, connect apps, and much more.
Porsche 911 Models
911 Carrera
Starting at $106,100
Available in Cabriolet
379 horsepower
0 - 60 mph in 4.0 seconds
182 mph top track speed
911 Carrera T
Starting at $116,600
379 horsepower
0 - 60 mph in 4.3 seconds
181 mph top track speed
911 Carrera 4
Starting at $113,400
Available in Cabriolet
379 horsepower
0 - 60 mph in 4.0 seconds
180 mph top track speed
911 Carrera S
Starting at $123,000
Available in Cabriolet
443 horsepower
0 - 60 mph in 3.5 seconds
191 mph top track speed
911 Carrera 4S
Starting at $130,300
Available in Cabriolet
443 horsepower
0 - 60 mph in 3.4 seconds
190 mph top track speed
911 Carrera Targa 4
Starting at $126,200
379 horsepower
0 - 60 mph in 4.2 seconds
179 mph top track speed
911 Carrera Targa 4S
Starting at $143,100
443 horsepower
0 - 60 mph in 3.6 seconds
188 mph top track speed
911 Carrera GTS
Starting at $142,600
Available in Cabriolet
473 horsepower
0 - 60 mph in 3.2 seconds
193 mph top track speed
911 Carrera 4 GTS
Starting at $149,900
Available in Cabriolet
473 horsepower
0 - 60 mph in 3.1 seconds
192 mph top track speed
911 Targa 4 GTS
Starting at $162,700
Available in Cabriolet
473 horsepower
0 - 60 mph in 3.3 seconds
190 mph top track speed
911 Turbo
Starting at $182,900
Available in Cabriolet
572 horsepower
0 - 60 mph in 2.7 seconds
199 mph top track speed
911 Turbo S
Starting at $216,100
Available in Cabriolet
640 horsepower
0 - 60 mph in 2.6 seconds
205 mph top track speed
911 GT3
Starting at $169,700
Available with Touring Package
502 horsepower
0 - 60 mph in 3.2 seconds
197 mph top track speed
911 GT3 RS
Starting at $223,800
518 horsepower
0 - 60 mph in 3.0 seconds
184 mph top track speed
911 Dakar
Starting at $222,000
473 horsepower
0 - 60 mph in 3.2 seconds
149 mph top track speed
911 Edition 50 Years Porsche Design
Starting at $186,200
473 horsepower
0 - 60 mph in 3.3 seconds
190 mph top track speed
911 Sport Classic
Starting at $272,300
543 horsepower
0 - 60 mph in 3.9 seconds
195 mph top track speed