Porsche Austin Delivery Experience
Celebrate Delivery of Your New Porsche with a test drive at Circuit of the Americas– North America's premiere road racing track.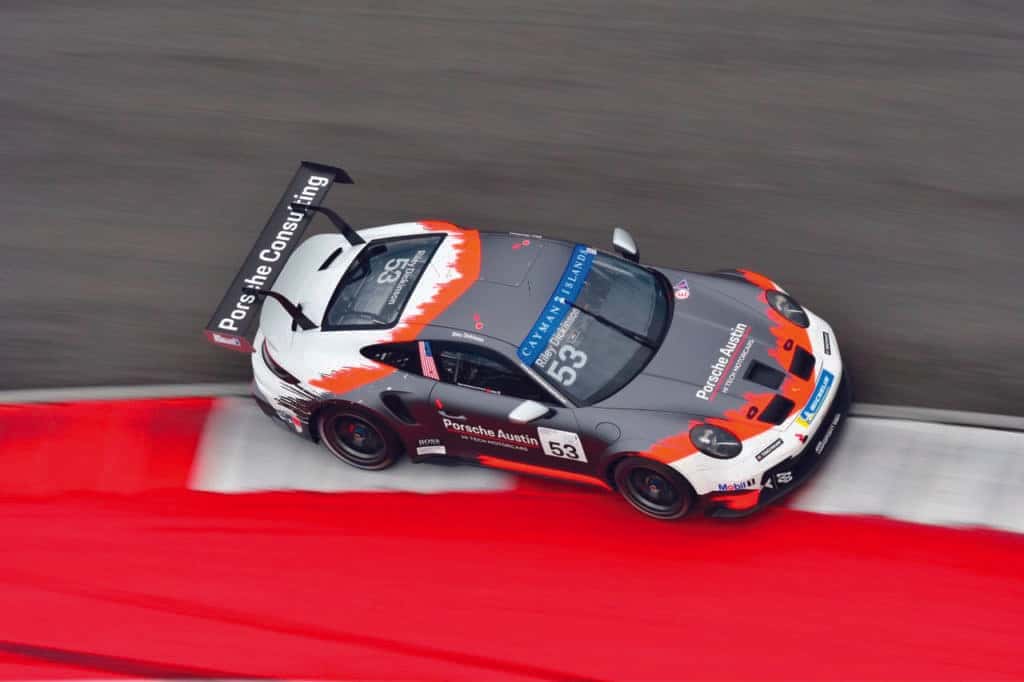 Drive your new Porsche the way it's meant to be driven- on a world class racing track. See what a Porsche is really capable of and enjoy an exclusive one-on-one, two-part session with your own personal Product Specialist/Pro-Driving Instructor.
Your personal on-track delivery includes:
» Pre-track vehicle inspection at Porsche Austin (must be performed prior to event date).
» Porsche Austin track delivery welcome presentation.
» One-on-one vehicle orientation session with your personal Product Specialist/Driving Instructor.
» 60-minute driving session at CoTA's Grand Prix circuit with your right-seat Product Specialist/Driving Instructor.
» Pit lane gala cocktail/dinner after the event.
» Post-track vehicle inspection at Porsche Austin.
$2,000.00 Registration fee
To book your Porsche Austin track delivery, please contact Porsche Austin at 512-371-1155 or [email protected]
Alternatively, you may contact Eli Mendoza at 512-483-7919 or [email protected].

Porsche Austin Delivery Experience
March 6, 2023
Registration 2:00 PM
Vehicle Orientation 3:00 PM
Hot Track 4:30 PM
Gala Event 6:00 PM
---
Previous Events:
---
FREQUENTLY ASKED QUESTIONS:
WHERE IS COTA (CIRCUIT OF THE AMERICAS) LOCATED?
9201 Circuit of the Americas Blvd, Austin, TX 78617
Upon arrival, head to the main building's pit garages beside the "Paddock" area next to building "U".
MAY I BRING A GUEST?
Yes, if you wish to bring a +1 to the event and dinner, please let us know so we may accommodate.
Also, let us know if you have any allergies, special food preferences or additional requests.
DO I NEED A HELMET?
Yes, you may bring your own or use one of ours: Porsche Austin will have loaner helmets in various sizes available at the track.
"Open face" helmets are recommended so you may communicate easily with your instructor, "Full Face" helmets are perfectly fine if you so prefer.
WHAT SHOULD I WEAR?
We recommend that you wear comfortable, seasonal attire. Shorts are allowed.
We also recommend you wear soft-soled shoes, such as driving or tennis shoes. No open- toed or high heeled shoes are allowed.
Feel free to stop by our dealership and shop for Porsche Driver's Selection of apparel and accessories displayed in our showrooms.
WHAT ARE THE REQUIREMENTS TO PARTICIPATE?
Participants must be at least 21 years-old and possess a current, valid insurance and driver's license.
HOW MANY PARTICIPANTS WILL TAKE PART?
We have set a maximum of 20 participants in our Delivery Experience.
DO I DRIVE MY OWN CAR?
Yes, this delivery experience is for your recently purchased Porsche vehicle – aiming to further your knowledge and enjoyment of its features, operation and performance.
WHAT CARS MAY WE BRING TO THE TRACK?
All Porsche vehicles (SUV's, Sedans, Sports cars), purchased from Porsche Austin may be taken on track, please inquire about eligibility for your specific vehicle.
DO I NEED TO HAVE MY CAR INSPECTED PRIOR TO THE EVENT?
Yes, the pre-track inspection is included in your Porsche Austin Delivery Experience – it is recommended a week prior to the track event.
We also include the post-track inspection, to ensure all consumables such as brake pads, rotors, tires, fluids, etc., are in perfect shape after the drive.
I HAVE NEVER DRIVEN IN A RACETRACK, IS THIS TOO ADVANCED FOR ME?
Quite the contrary!
This is designed to be a memorable, first-time experience in one of the greatest racing tracks in the World.
Numerous factors and steps are taken to ensure a safe, incident-free experience:
You be assigned a personal instructor sitting in the right-seat guiding you step-by-step through your drive with total priority on safety and comfort.
Your personal driving instructor is highly adept working with all skill levels: You will be able drive at your own pace and comfort level.
IS THIS SAFE?
Yes, our driving events take place in a highly controlled environment in a world-class track and under the tutelage of highly experienced pro-driving instructors.
Among the safety features: Ample, speed-reducing runoff areas in all turns, Flag-posts along the 3.4-mile course with instant-response crews, turn-by-turn video monitoring by the most experienced race officials in the business.
Additionally, the maximum number of cars for our event is limited to 20, in a track designed to run up to 120+ cars – so on-track traffic will be minimal.
WILL THIS EXERT EXCESSIVE WEAR TO MY CAR?
Our 60-minute session is unlikely to bring a noticeable level of wear—we will follow a crawl-walk-run approach with focus on bedding-in your new Porsche and your own learning process.
As you hone your skills with subsequent instructor-led track sessions – speeds will naturally increase and then, wear will become a factor to consider.
IS MY CAR TOO NEW TO DRIVE ON-TRACK? WHAT ABOUT BREAK-IN?
We have designed this event to properly break-in your new Porsche with guidance from your personal Driving Instructor: your engine, transmission, suspension, brakes, and tires require a progressive method which works very well in concert with your learning process.
STRICT CANCELLATION POLICY FOR PADE:
NO-SHOW, fees are forfeited. NO REFUND or CREDIT.