What Are the Porsche Top Speeds?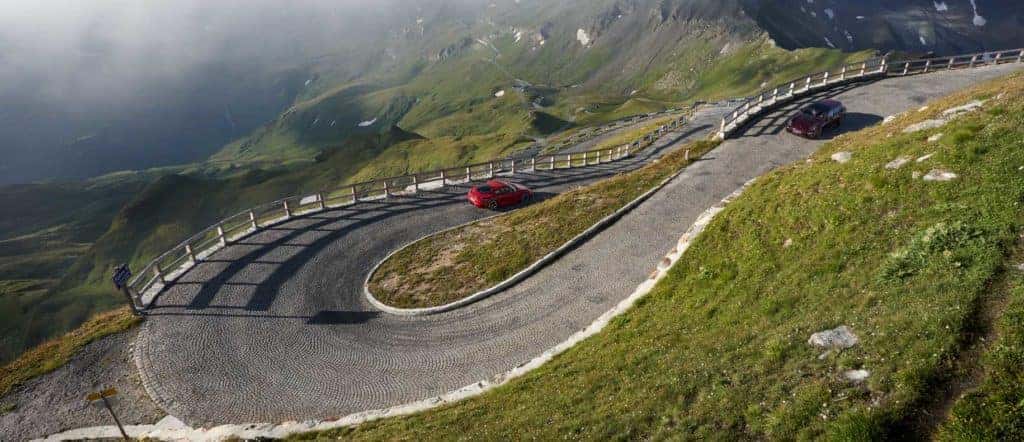 There's no mistaking a Porsche, whether you're hearing the roar of its engine or watching it zip down the road or whip around the track. Porsche vehicles, from the coupes and convertibles to the SUVs, are known for their lightning-fast performance. So if you're looking to get behind the wheel of a world-class sports car that leaves others in the dust, you've got a lot of options in the Porsche lineup. Look below to learn more about the Porsche top speeds for popular models like the 911 and Macan.
Porsche 718 Top Speed
The Porsche 718 can be had as either a coupe or convertible. It's a great choice for sports car fans in Round Rock who want to go fast and turn heads in the process. Check out the top speeds for all Porsche 718 models:
Porsche 718 GTS Top Speed: 180 mph
Porsche 718 Cayman GT4 Top Speed: 188 mph
Porsche 718 Spyder Top Speed: 187 mph
Porsche 911 Top Speed
Also available in coupe and convertible body styles, the Porsche 911 is distinctive — to say the least. Some models in the 911 family are able to reach 60 mph from a standstill in less than three seconds.
Porsche 911 Carrera Top Speed: 182 mph
Porsche 911 Targa 4 Top Speed: 179 mph
Porsche 911 GTS Top Speed: 193 mph
Porsche 911 Turbo Top Speed: 198 mph
Porsche 911 Speedster Top Speed: 192 mph
Porsche 911 GT3 Top Speed: 198 mph
Porsche 911 GT2 RS Top Speed: 211 mph
Porsche Panamera Top Speeds
If you want a sports car that errs on the side of practicality, it doesn't get much better than the Porsche Panamera. Equipped with four doors, the Panamera is technically a hatch-sedan that'll fit your lifestyle and deliver pulse-pounding speed:
Porsche Panamera Top Speed: 164 mph
Porsche Panamera GTS Top Speed: 181 mph
Porsche Panamera Turbo Top Speed: 190 mph
Porsche Panamera E-Hybrid Top Speed: 172 mph
Porsche 918 Spyder Top Speed
You won't find the Porsche 918 Spyder in our new vehicles inventory; it's been out of production for some time. However, it's speed and power are legendary, which is why we think it deserves a mention. When it hit the market, it raised eyebrows with a top speed of 214 mph and a 0-60 mph time of about three seconds. It's not surprising that sports car enthusiasts inquire about this hypercar!
Porsche Macan Top Speed
Searching for an SUV that's equal parts high-performance and utility? Look no further than the compact Porsche Macan, with its thrilling top speed of 167 mph. Offering seating for five people, the Macan proves you don't need to sacrifice utility to get motorsports-derived power and speed.
Porsche Macan Top Speed: 141 mph
Porsche Macan S Top Speed: 157 mph
Porsche Macan GTS Top Speed: 162 mph
Porsche Macan Turbo Top Speed: 167 mph
Porsche Cayenne Top Speed
The midsize Porsche Cayenne is available as a classic SUV or as a shapely coupe. Looking for an all-electric option? The Cayenne is available in an E-Hybrid trim. Browse the Cayenne top speeds below:
Porsche Cayenne Top Speed: 152 mph
Porsche Cayenne S Top Speed: 164 mph
Porsche Cayenne Turbo Top Speed: 177 mph
Porsche Cayenne E-Hybrid Top Speed: 157 mph
Porsche Cayenne Turbo S E-Hybrid Top Speed: 183 mph
Get Behind the Wheel of a Porsche at Porsche Austin
Ready to experience the Porsche top speeds of your favorite models in person? Contact us at Porsche Austin to set up a test drive at our Austin showroom near Lakeway and Bee Cave! We'll help you find the model that's ideal for you, while our finance team can give you more information on our new vehicle specials for models like the Porsche 911, Macan, and Cayenne! Also be sure to learn more about Porsche all-wheel drive models or Porsche 0-60 times.
More from Porsche Austin
What is tire rotation? Simply put, tire rotation is a service performed to ensure that your tires don't wear down too quickly. As the name suggests, tire rotation involves moving the position of your tires at set intervals. What does a tire rotation do? Well, this service can prevent uneven wear and tear, minimize the…

If you're searching for a way to upgrade your Lakeway travels, opting for a new Porsche Cayenne will fill every drive with endless pleasure. This competitively priced luxury model is perfect for daily drives in Round Rock and weekend adventures in Bee Cave. While this SUV is certainly built to turn heads, the Porsche Cayenne interior offers…

Turn heads on Lakeway streets in a luxury SUV the whole family will love. The 2021 Porsche Macan showcases exciting design on top of premium technology and interior comfort. With the spacious interior, you have more than enough room for seating up to five passengers to share the luxury driving experience. Explore the Porsche Macan…