European Delivery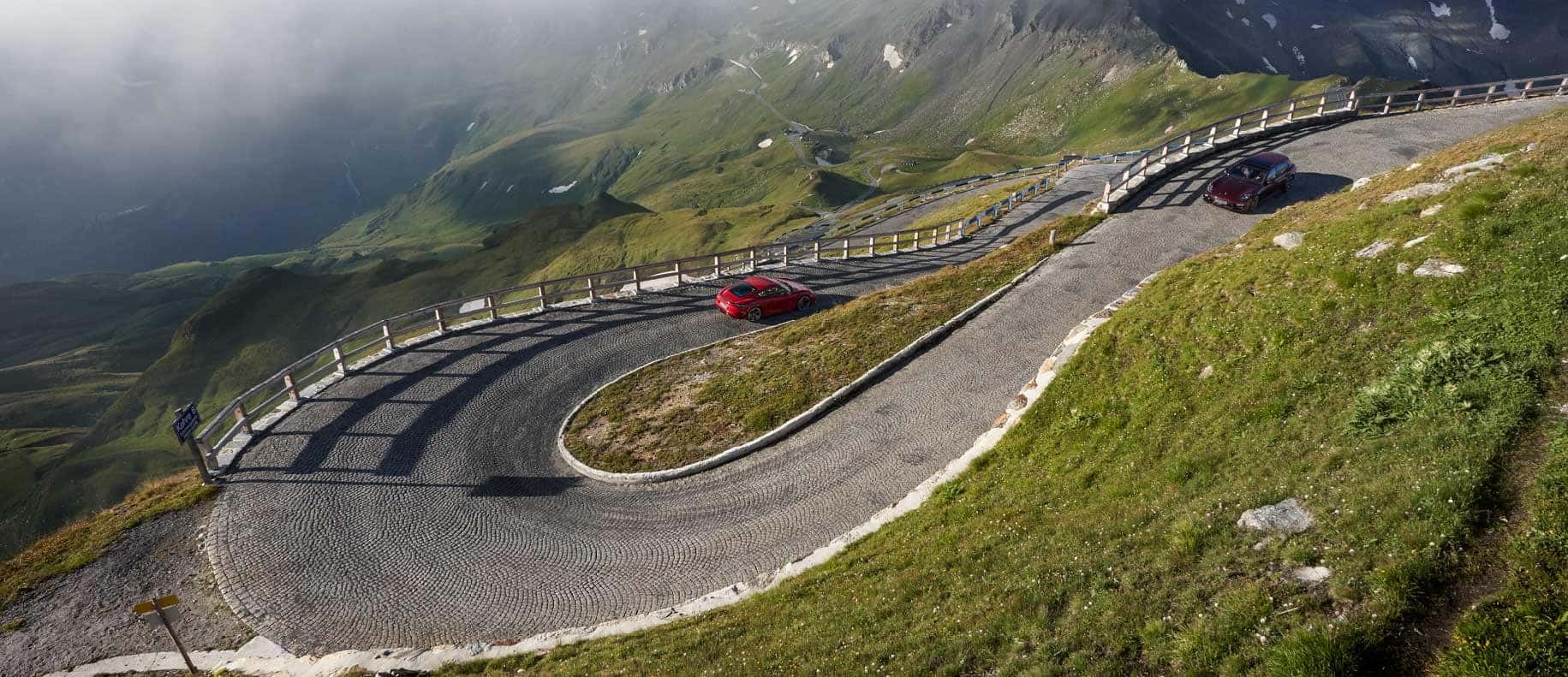 The purchase of a new Porsche is more than a mere acquisition. It's an experience. Porsche Austin's European Delivery Program can make it unforgettable.
Your Adventure Begins
Where better to experience the first moments with your Porsche than at the home of Porsche engineering and development.
Imagine the first encounter with your Porsche sports car or SUV – not in downtown Austin traffic, but rather on the very winding roads, autobahns, and the beautiful countryside that inspired its unique design and exhilarating performance. Imagine touring the factories in Zuffenhausen and Leipzig where your Porsche is meticulously crafted, then being presented with your keys… and an even more gratifying opportunity: the chance to tour Europe in rare style behind the wheel of the world's most spirited automobile.
The Ultimate Vacation
The Porsche European Delivery Program can easily make your ultimate vacation a reality.
It begins when you order your new Porsche from an authorized Porsche Dealer in the United States or Canada for delivery at the factory. When you arrive in Germany, your first few hours will be spent as the special guest of Porsche. You can visit the Porsche Museum and stroll through a half-century of sport car evolution in Zuffenhausen or experience our state-of-the art facility in Leipzig, the birthplace of the Porsche Cayenne and Panamera. A tour of the factory allows you the opportunity of following in your Porsche's footsteps during its creation. Enjoy lunch at either factory location in the VIP dining room. Shop in the exclusive Porsche Boutique. And feel your anticipation build…
Naturally, the best is saved for last. A Porsche Delivery Consultant will hand you the keys to your new Porsche and acquaint you with its operation and features.
What happens next is up to you. Explore the charm and history of Germany. Sprint to Paris, Rome, Prague or any other exciting European city you choose. Unleash the power of your Porsche on the autobahn or, with the Cayenne, even off-road.
Revel in its precise handling on the countless serpentine back roads. The freedom to tour Europe in exquisite fashion is yours, without the cost and inconvenience of renting or leasing a car.
Porsche's all-inclusive program includes factory delivery, shipment of your automobile to North America, marine insurance, collision and third-party insurance. Even the cab fare from the airport to the Porsche factory and one free hotel night is included!
Ordering Your Porsche
Porsche Austin can help you order the car of your dreams.
Eligibility
Any resident of the United States or Canada can take advantage of Porsche's European Delivery Program, provided they place a vehicle order with and purchase that vehicle from an authorized Porsche dealer. Participants must take delivery of their vehicle in person at the Porsche factory in Germany. Military personnel stationed in Europe are not eligible under the terms of this program. People with special work or study arrangements may be restricted as a result of regulations within the country in which they will be working or studying. (If there is a question concerning eligibility, a diplomatic or counsel office of the host country should be contacted prior to placing the order.)
Procedures
The Porsche European Delivery program involves a few basic steps:
Place an order with any authorized Porsche dealer in North America.
Choose the model, options, and date you would like to pick up your Porsche in Germany (weekends and German holidays excluded).
To ensure that you receive the exact Porsche you want on the delivery date you specify, place your order at least 12 weeks prior to delivery. Your dealer may still be able to find you a car in less than 12 weeks, but your selection may be limited by production availability. Delivery dates for "special orders" involving custom or non-standard colors and interiors are subject to material availability. Please check with your dealer.
To place the order, fill out the European Delivery Vehicle Order Form with your dealer. The order is subject to confirmation by Porsche Cars North America, Inc. You will need to determine how long you will be driving your Porsche in Europe and have your dealer enter the insurance length you'll need for your Porsche on your European Delivery order form (various insurance time-frames with a maximum of three months – please ask your dealer for specific extended insurance times available). The first two weeks of insurance are included in the program.
Upon review of the Order Form, the European Delivery Coordinator will reach out to the customer and dealer with a confirmation email confirming the date, time and location of Delivery. Deliveries are scheduled by appointment only; customers should not make travel plans until their delivery date is confirmed by the European Delivery Coordinator.
Make sure you read and understand all the conditions printed on the European Delivery Vehicle Order Form. If you have any difficulty in ordering, please do not hesitate to call your dealership or contact European.Delivery@Porsche.us.
The Paperwork
Upon receiving final payment, your dealer will present you with your final delivery information, which will include your designated delivery time, hotel and taxi vouchers, and your personal Monroney Label. Please be certain the Monroney Label checks against your copy of the European Delivery Vehicle Order Form regarding the model, options, insurance and delivery date.
Payment
Payment must be made to your authorized Porsche dealer. Full payment includes the purchase price of the vehicle that was negotiated with your dealer.
Note: German tax laws require a Value Added Tax (VAT) to be paid on all purchases. The "VAT" will be charged if the vehicle is not exported within the terms of the European Delivery contract.
Order cancellation
Should it be necessary for you to cancel your order, a cancellation fee of 1% of manufacturer's suggested retail price may be assessed. If you have already been given the Monroney Label, you must return it before your dealer will refund the car payment, less the cancellation fee.
Change in Arrival Date
Should you need to change your arrival date in Europe, be certain to contact your dealer before departure so that the Porsche AG Delivery Center can accommodate your new time of arrival.
Your Arrival
Getting to the factories is only the beginning of your adventure.
Finding Porsche in Stuttgart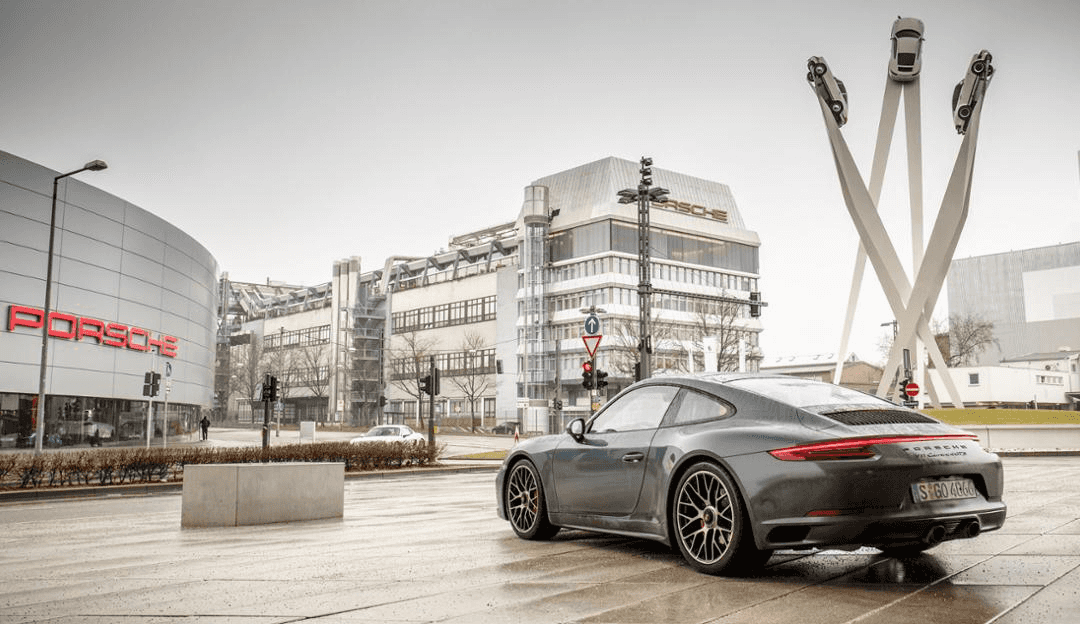 The Porsche factory for our line of sports cars is located at Porscheplatz 1 in the Stuttgart suburb of Zuffenhausen, Germany. From the Stuttgart Airport, take a cab and ask for "Porsche Werk 2, gate "Porsche Museum" or the "Porschestrasse". The taxi ride takes about 20 minutes. Be sure to ask the driver for a receipt so you can be reimbursed by PCNA's European Delivery Department.
The New Car Delivery Center is open for car deliveries Monday through Friday, 8:00 a.m. to 4:00 p.m. except weekends, German holidays and the factory vacation in July/August. Though the New Car Delivery Center is open until 4:00 p.m. daily, please be advised that English speaking programs are scheduled at 8:00 a.m. and 9:30 a.m. Please keep this in mind when making your travel arrangements, it is always recommended you arrive the day prior to your scheduled delivery date. While in Europe, questions should be directed by telephone to +49 (0) 711/ 911-25388.
As our special guest, you are invited to visit the nearby Porsche Museum for a rare glimpse at some of the most groundbreaking sports cars in motorsports history. Also, on display is Porsche Number 1, the very first realization of Ferdinand Porsche's dream to engineer the ultimate driving experience.
Tour the Porsche factory and you'll witness many other dreams in the making for a select group of driving enthusiasts around the world. From the hand-stitching of a cabriolet top and the meticulous and detailed work covering even the tiniest interior part with leather, to the breathtaking event when the powertrain and the body are put together (known as the "The Marriage"), our renown care and craftsmanship is apparent at every point along your journey into the inner workings of Porsche. Afterwards, you are invited to enjoy a complimentary lunch in the Executive Office Building and shop for exclusive merchandise at the Porsche Selection Boutique adjacent to the Delivery Center.
Finding Porsche in Leipzig

The Porsche factory for the Cayenne and Panamera is located at Porschestrasse 1 in northern part of the city of Leipzig, Germany. Your transfer from the airport or your hotel in Leipzig will be provided through the Customer Center at Porsche Leipzig. Or, if you prefer, you can also take a taxi to the Porsche Factory, the expense of which will be reimbursed through the Porsche European Delivery Department. Please keep in mind when making your travel arrangements that English speaking programs are scheduled in the morning starting at 8:30 a.m. It is always recommended that you arrive the day prior to your scheduled delivery date.
Experience the thrill of a steep chicane, similar to the Corkscrew at Laguna Seca, take the curbs as if you were at the Nürburgring and feel the exhilarating g-forces in the section based on the Parabolica at Monza on our FIA-compliant and for professional competition use fully approved track. If that's not enough for you, there are also sections reminiscent of the Loews curve at Monaco, the Curve di Lesmo at Monza, and the Bus Stop at Spa-Francorchamps.
While the on-road test track provides an opportunity to become acquainted with the outstanding performance of the Cayenne on tarmac, the off-road circuit gives you a taste of the vehicle's handling in more extreme conditions. Although only 6-km (3.7 miles) in length, the course is packed with a number of different obstacles and challenges, each one designed to demonstrate the all-terrain potential of the Cayenne. Eighteen training modules put your driving skills to the test, showing you how to achieve the optimum balance and response from your vehicle, including an obstacle log course, ramp crossings, a seesaw, twist humps and a stepped ascent, followed by a 50-meter wading.
Touring Europe
With your new Porsche, your travels are only limited by your imagination.

Taking Delivery of Your Porsche
When you pick up your new Porsche, you will need a current passport and a valid driver's license. (An international driver's license – available at nominal cost through any AAA auto club office – is suggested to avoid language problems while touring Europe. If you have only your stateside or Canadian license, some countries could request notarized translations.) Any additional insurance premiums will be due at this time (see Helpful Information section). At the time of delivery, in addition to one pristine new Porsche with a full tank of gas, your European Delivery Consultant will present you with the following documents:
Owner's Manual and Warranty Book
Insert for Tourist vehicles (clarifying your responsibilities in Europe)
International Registration booklet
Yellow and green Proof of Insurance Card
Porsche Assistance (for personal insurance and various traveler's aids, valid up to three months)
Dealer Guide Booklet listing Porsche Authorized Dealers of Europe
Export Documentation (essential for proving exportation)
Return Shipment Voucher (for return shipment of your Porsche to North America)
Always carry these documents with you in the car during your trip.
Helpful Information
Automobile Insurance – Currently, the European Delivery program provides 16 days of collision coverage and third-party liability insurance, commencing on your specified delivery date. You are therefore fully insured (liability insurance and collision coverage) for the first 16 days of your trip. If your European travel plans exceed 16 days, you may obtain additional automobile insurance through Porsche.
At the time of ordering, it is advisable to work with your dealer and obtain additional third-party liability and collision coverage for periods beyond the 16 days included in the program. Extensions to this coverage may be obtained in Europe, but the process is time-consuming and may interfere with your travel plans. You may pay for the additional insurance at the factory in Euro, U.S./Canadian Dollars, credit cards, or Traveler's Checks. The insurance coverage indicated on the European Delivery Vehicle Order Form will be included in your papers.
Remember, your U.S./Canadian coverage is not valid in Europe. Third-party liability insurance covering the length of your European stay is required to ensure that the required international registration remains valid. Please do not overlook this critical point: your European auto registration is valid as long as you are covered by third-party liability insurance. Should you be caught without adequate liability insurance during your trip, your car could be confiscated as you cross an international border.
It is also important to note that if your arrival at the factory is delayed from the date specified on the insurance forms, only the remainder of your registration and liability insurance will remain in force. Be sure to notify your dealer directly if there is a last-minute change in your arrival date.
Warranty and Service in Europe – The warranty terms valid outside the United States/Canada are presented in the booklets issued to you during delivery. Any work done on your Porsche should be performed as specified in the Warranty and/or Maintenance booklets by a dealer listed in the Porsche Authorized Dealers booklet. Please refer to the maintenance booklet's schedule outline to determine when you will be charged for the first maintenance service. We urge you to follow these suggestions in order to ensure that the warranty remains valid.
Shipping Your Porsche Stateside
Bring your new Porsche to its new home – your garage.
Returning Your Porsche
You can return your vehicle to the Leipzig factory at no additional charge 24 hours a day, 7 days a week, every day of the year. Please note that vehicles cannot be returned to Zuffenhausen. The closest alternative remote drop-off location to Zuffenhausen is in nearby Sindelfingen.
If you would like to make alternate arrangements for dropping off your vehicle for return shipment, we have contracted International Freight Forwarders, Inc. to facilitate the transport. IFF, Inc. has partnered with transport agents throughout Europe which will allow you to drop off your vehicle in several major European cities:
Germany – Berlin, Bremerhaven, Duisburg, Frankfurt, Hamburg, Munich, Sindelfingen
France – Paris, Nice
Switzerland – Geneva, Zurich
Great Britain – London
Belgium – Antwerp
Netherlands – Amsterdam
Spain – Madrid
Slovenia – Koper
Additional charges will apply to cover the transportation cost. Detailed information, including contact information and pricing for each drop-off location will be sent to you with your European Delivery package, or you can request this information in advance from your responsible Dealer or from your European Delivery Specialist.
Your Porsche will be fully insured for the return shipment, but personal items left in your car are not covered, so be sure to remove any personal belongings from your new Porsche prior to turning it over for shipment. The International Registration booklet will also be needed in order to leave your car with our shipping agent.
Your Porsche's Arrival
U.S. Customs duty and clearance fees and/or Canadian Customs clearance, if applicable, will be arranged by Porsche as a service to you. Porsche Cars North America, Inc. can transport your vehicle to any authorized Porsche dealer at the prevailing inland transportation fee. (Inland transportation insurance will be included.)
Please inspect your Porsche at pick-up to ensure that any damage incurred during transportation is noted.