2020 Porsche Taycan Specs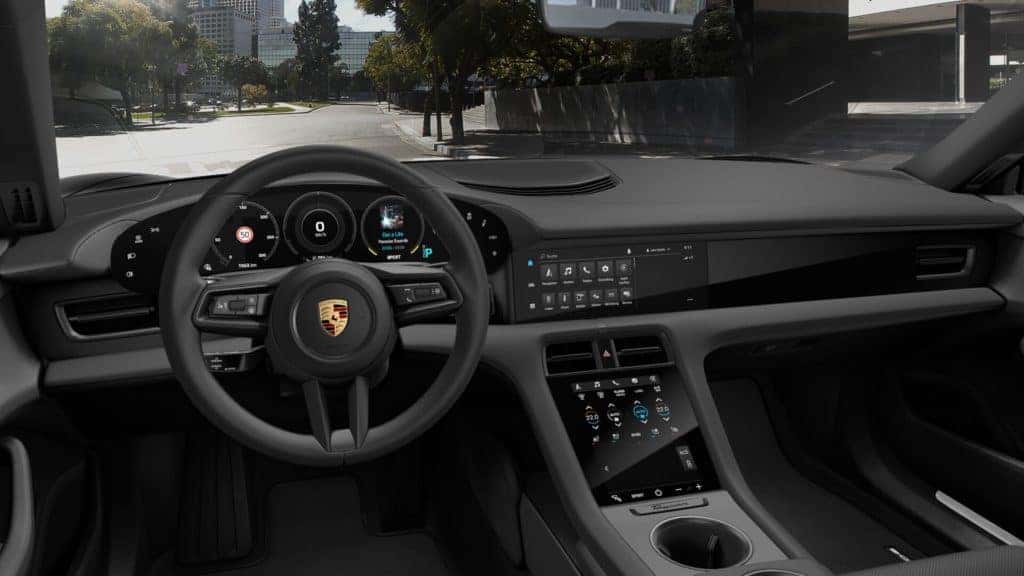 ---
---
The 2020 Porsche Taycan has arrived in Austin and it's ready to take your mind off of every other car in its class. An all-electric vehicle from Porsche has been hotly anticipated for years, and the result is nothing short of breathtaking. Porsche Austin examines the specs on the Taycan engine, interior, and more below.
2020 Porsche Taycan Specs: Power and Performance
Taking the standards of Porsche engines into the electric age is not an easy task, but Porsche is ready to help Lakeway drivers live in the future with their new vehicle. One of the major performance features is Launch Control, giving your Taycan Overboost Power of 560kW.
4S Engine: The 4S engine powers up to 482 hp and 479 lb-ft of max torque with Launch Control. Its Overboost Power pushes it to 562 hp!
Taycan Turbo: The Turbo powers up to 616 hp, and its Launch Control boosts the torque to 626 lb-ft and a 670 hp Overboost Power.
Taycan Turbo 4S: The Turbo 4S powers up to 616 hp, but its Launch Control bests even the amazing specs on the Turbo with a max torque of 774 lb-ft and max 750 hp.
It's the Launch Control system that pushes the 2020 Porsche Taycan 0-60 mph in 2.6 seconds!
2020 Porsche Taycan "Fuel Economy"
Wondering about the 2020 Porsche Taycan fuel economy? Since it's an electric vehicle, there isn't really a 2020 Porsche Taycan "fuel economy"; its economy is measured in an EPA-estimated Driving Range metric.
Driving Range: The Taycan has a massive 192-mile range, so you can go very far before charging it.
800-volt System: With this system, not only do you get outstanding range; your Taycan will charge at incredible speeds.
Intelligent Range Manager: This available technology adjusts climate and speed once you enter your destination so you don't run out of fuel.
2020 Porsche Taycan Specs: Dimensions
Round Rock drivers get all the expected sleek design features of a Porsche with the Taycan, meaning that you'll feel one with your vehicle inside and out.
Width (with/without mirrors folded in): 77.5 inches / 84.5 inches
Curb Weight: 4,953 pounds
Gross Vehicle Weight Rating: 6,349 pounds
Store your belongings in two locations, the front luggage compartment that is 2.8 cubic feet and the rear luggage compartment that is 14.3 cubic feet, making for a total of over 17 cubic feet of cargo space!
Find out more about the 2020 Porsche Taycan with Porsche Austin!
These 2020 Porsche Taycan specs are just the tip of the iceberg when it comes to this never-before-seen electric vehicle. Drivers from Austin to Bee Cave can find out more about the 2020 Porsche Taycan with Porsche Austin, where we have plenty of resources to help drivers find their dream car, from useful model comparisons to expert advice from our finance center. Contact us with any and all questions to see how you can lease at Porsche Austin, or take a minute to learn about how to keep your unused car healthy.