Tire Rotation Service near West Lake Hills, TX
A vital aspect of your vehicle's maintenance is taking care of your tires. Making sure you can trust your set of rubbers is crucial to having a ride that grips the pavement with every dip and turn. We at Porsche Central Austin offer an efficient tire rotation service that ensures your tires are working at their pinnacle of safety. All you have to do is schedule an appointment by calling us at 844-477-6936! We will get you taken care of quickly so you can get back to your busy schedule.
What goes into a tire rotation? Simple! When you bring your ride in, our mechanics get straight to work. After taking a peek at the treads and wear pattern of your tires, they'll remove each from where they are currently located. Once they have determined the best positioning for all four rubbers, they'll reposition them back onto your vehicle. Before doing so, they will also assess the air pressure to ensure that they are properly inflated. The reasoning for repositioning the tires is to distribute the wear evenly to extend the life and performance of your tires. If you choose to skip this simple maintenance service, your tires run the risk of blowing out sooner than usual. This can also hurt your pockets as well, as you will have to buy one tire at a time, missing out on four-tire deals.
If you are not too sure if it is about that time for a rotation, there are a few factors to keep a lookout for that can lend a helping hand. The easiest and most obvious is just taking a quick glance to see if they are wearing thin. Usually, your front pair are the ones that wear out the quickest, because they handle the brunt of turns and braking. If you want to test your tread level from home, all you need to do is grab a penny and insert it into the grooves with Abe's head going in first. If you are able to see his entire head, then your tread depth may be too low to drive. That is a problem that we can certainly take care of right here at our Service Department.
Are you ready to take to the streets with the confidence and peace of mind that you deserve? Stop by Porsche Central Austin for a tire rotation service near West Lake Hills, TX! We are located at 200 East Huntland Drive in Austin, TX.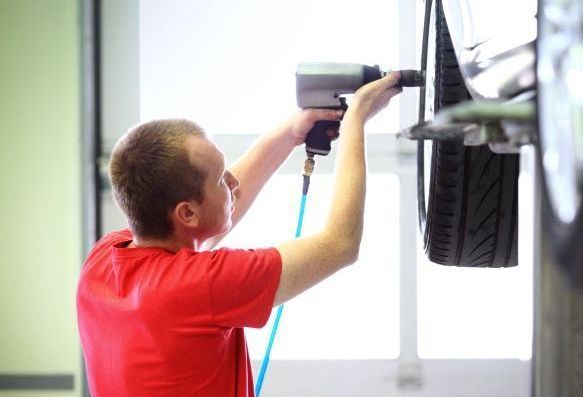 Service Hours
844-477-6936
| | |
| --- | --- |
| Monday | 7:30 am - 6:00 pm |
| Tuesday | 7:30 am - 6:00 pm |
| Wednesday | 7:30 am - 6:00 pm |
| Thursday | 7:30 am - 6:00 pm |
| Friday | 7:30 am - 6:00 pm |
| Saturday | 9:00 am - 4:00 pm |
| Sunday | Closed |
Testimonials
Five star customer service
January 11, 2017
Consummate Professionals
January 17, 2017
ervice So Exceptional I Never Want to go Anywhere Else
January 17, 2017
Great Sales and Service
January 18, 2017
Excellent customer service
January 23, 2017
Everyone was super friendly
January 26, 2017
Professional and a pleasure to work with
March 25, 2017
Outstanding Staff"
April 3, 2017
Best Porsche Dealership and Best Customer Service!
May 17, 2016
My purchase experience reflected the quality one expects from Porsche
April 5, 2016
The change in ownership has really taken the dealership to the next level
April 6, 2017
Great to work with
June 9, 2016
It does not get better than Porsche Central Austin
May 24, 2016
If you want to get great service on your Porsche than Central Austin is a great place to go
September 14, 2016
Made it a win/win
July 6, 2016
Truly made the car buying experience great!
August 22, 2016
Five stars is not a stretch
January 18, 2017
Exceptional service experience at Porsche of Central Austin
October 6, 2016
By far the best customer service
January 6, 2017
They are truly exceptional
February 6, 2017
Read More